We have been keeping busy during our extra time here near San Antonio!
We (meaning Vaughn and one of the boys) redid the bathroom.  I'll have to remember later to take a picture – nothing extensive, but we are liking the practicality and convenience!
On Thursday, Beth and I went into town to pick up some stuff, including grocery shopping for the tribe (spelled a-cart-and-a-half-at-Costco).  When we were coming home, the van started squealing, and then just as I pulled in, and was putting the van into park, a little dash light lit up and my temp gauge was nearly maxed out.  Sizzles and steam rolled out from below the hood.
So, Vaughn has been spending the last couple of days working on the van: replacing the thermostat (because now it's stuck), the water pump, the fan clutch, and belt.  Being on the road, with mechanical issues, can be challenging - even tho V has a full set of metric wrenches back in MT, he only brings the ones he has to use the most, which meant he bought a new set to fix his truck last week even though he had several of them with him (cost the same as just replacing the extra ones he hadn't brought).  It's hard to anticipate what we will need on the road, and we cannot bring everything we might possibly need with us; weight is such an issue!
Vaughn does not enjoy mechanic-ing (like.at.all), but he's nearly done. for now anyway – hopefully this will be it for this trip. 


The littles are still having fun feeding the deer…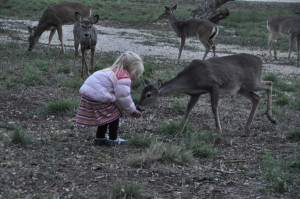 I picked up a second bag of deer corn when I was in town, and was glad to find out it was only about $6.50.  

  Cheap entertainment.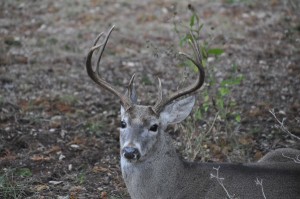 Yesterday we had some fulltime friends come over for the day; the Boyinks are on their third year traveling, and were spending a couple of days in San Antonio.  The kids played football for awhile before we all went down to spend the afternoon in the park activity center.
We hauled our lunch down there, and spent the afternoon eating and gabbing while the kids played more football outside.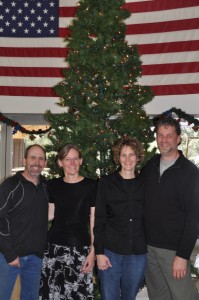 When it was time to leave, their kids enjoyed feeding the deer too!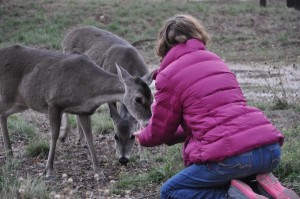 We sure had a nice time catching up with Mike and Crissa and their two young adults!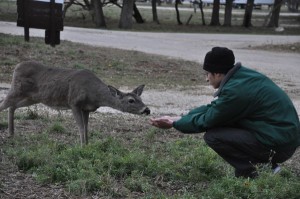 Then today we were 'gone all day' from  the rv home.  The kids and I went down to the activity center before lunch.  They had a great time making cute little foam Christmas trees at 11am…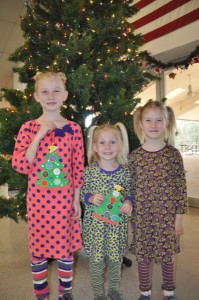 Then at noon there was cookie decorating…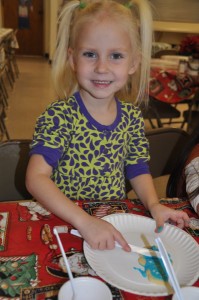 The kids in the park decorated dozens of cookies for the Christmas party tonight.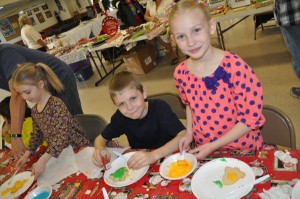 Beth helped Caleb decorate a couple, but he wasn't interested for long.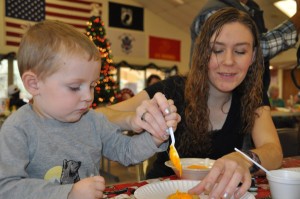 I hovered near the littlest ones to make sure there wasn't any finger-licking since these weren't just for us! 

   Emma really liked decorating, and kept doing more cookies long after the other kids had abandoned the cause…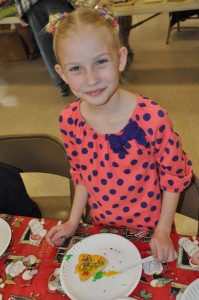 …the kids did get special cookies for them to decorate and eat when they were done embellishing the party ones.
At 2 there was an Ice Cream Social.  with carrot cake. 

Daniel was dad's sidekick today heading to the parts store (again), and to help pull the rest of that stuff out of the engine compartment.  Jake parked himself in front of the big screen with a football game.  Thomas and Joel decorated a couple of cookies, but then they wandered off to play games.
At 3, there was a Candy Game where the kids sat in a circle then took turns rolling a big stuffed dice.   If they rolled the predetermined number, then they got to pick a candy bar out of a brown paper bag the activity director had. Unfortunately, my tribe kids won a disproportionate number of full-sized candy bars.  They were rationed since we'd already done cookies AND ice cream!
At 5, there was the Christmas party – with a visit from Santa who was giving out candy canes (which made for a quick talk to the little girls about not telling other kids that Santa isn't real! LOL!  They didn't really get WHY they shouldn't tell the truth, and why some people do pretend he's real… we settled for: it's not our place to change what other people tell their little kids, and you are not allowed to tell! LOL!), and tree decorating…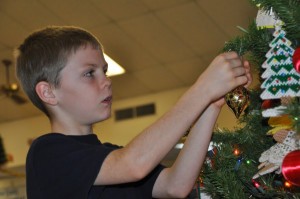 Caleb had been taking a great nap on one of the sofas near the checker board table, and woke up just in time to put a few last ornaments on the tree…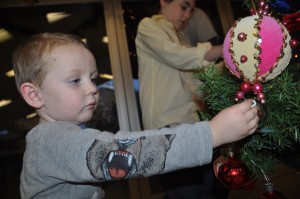 The kids loved all the little finger foods that were set out after the tree was done…  Molly thought it was pretty neat to eat with a toothpick!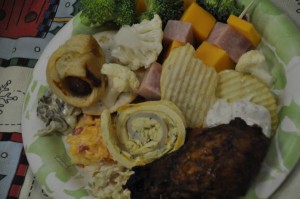 It was a fun day!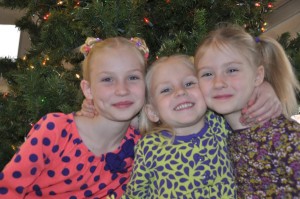 Afterwards, I took a few pictures of the kids around the Christmas tree since we don't do a big one.  I was trying to get Molly to not smile so fakey, so I asked her what she wanted for Christmas (our kids have just never done lists).  She wants a 'little horse' (but not a pony)…really wants…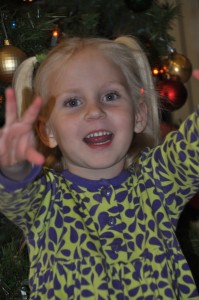 Thank goodness I'm done with my gift shopping; I put the kaboshes to that first thing!  

  LOL!
We can stay at this park through Tuesday (we have a 2 week park to park membership), but are hoping to pull out Monday if Vaughn gets the van put back together, and if my order comes in.    Either way, even with our 'being stuck' here, we are pretty thankful to be able to travel like we do!
Padre Island – the tribe is invading next week (but if you could warm up by then, we'd be much obliged! 

)!