On Monday night, I heard Vaughn talking on the phone to a friend of his.  One of the things that he said was (roughly), "Seeing pictures of tornado devastation is like looking at a picture of the Grand Canyon.  No photograph can come close to capturing the intensity and magnitude of the real thing."  It's true. and I'm sure we don't know the half of it.  (all these photos are from the Samaritan's Purse clean-up efforts in Calhoun, GA 2/13)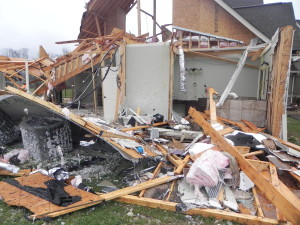 When we first pulled into Tuscaloosa in 2012, and drove through the tornado ravaged areas, we were shocked at the vast and incredible devastation that we saw.  And that was an entire year after the tornado had ground through the town.  No amount of pictures or even news footage could have prepared us for the overwhelming sense of sadness and despair for the victims that we felt.  We wondered, as we saw each bare foundation, or damaged home, who had lived there, whether they survived, and where they were now.  We were puzzled about the large Xs that we saw spray painted on houses, and later learned about the search and rescue code that had been widely used in the vast searches after Hurricane Katrina.   They were used in Tuscaloosa and Joplin.  Now we are seeing those same images come from Oklahoma.
The area the tornado affected is so immense, that rescue teams resorted to using the X method of marking standing structures that had been searched; a method that tells the rescue teams, who come behind the search crews, what they will find in each location.  In Tuscaloosa, we learned (and are sharing because maybe others are curious too ;) ) that the 1st slash (/) in the X is drawn when the team enters the home to begin the search, the second slash, the backslash, is drawn when they exit the home, making the 'X'.  The X forms 4 distinct areas for the searchers to denote findings.  In the 12:00 position, the spray painted numbers will tell at what time, on what date, the house was searched.  At 3:00, they note any personal hazards (rats, gas leak, sewer gasses..), and at 9:00, the search team puts their personal code, their signature if you will.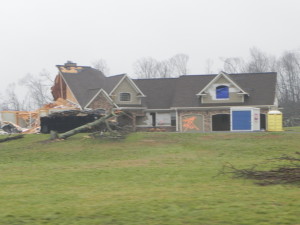 The 6:00 compartment is the one we are always looking at as we wonder what the story of each home is – at the bottom of the pie, is where the number of victims is denoted – alive victims, and those deceased (ie.  3A 1D).
In Tuscaloosa, over 2 years after the tornado, there are still a few vivid Xs on abandoned, damaged homes that never were rebuilt or bulldozed.  The X still marking each one of those shells, tells part of the story of the now decrepit home that sometimes was never revisited by its prior occupant.  Some people were in such despair that they just walked away, never looking back.  You can go into many of these homes, to find clothes hanging in the closets, and long-rotted food still in the fridges.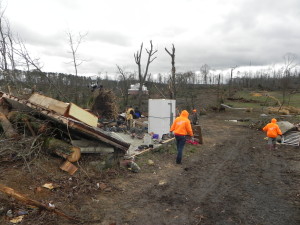 All that reminiscing about what we saw while we helped rebuild homes for families displaced by the Tuscaloosa tornado of 2011, makes us wonder about the future of the towns in Oklahoma and Texas that have seen similar destruction in the last couple of weeks.  In 2 years from now, how many Xs, on skeleton houses, will stare down on passersby?  How many families will still be displaced from their homes because they cannot handle facing the enormity of their circumstances alone; physically and/or mentally?  How man families will still be in temporary housing because they don't have the skill or funds to repair their homes.  (Not everyone has insurance, and sometimes insurance either won't cover, or is insufficient for the damage.)
One of the most precious things that we took away from our first disaster relief clean-ups in Calhoun, GA, and Shuqualak, MS, was the discovery of just how much it meant to people to have help and support in dealing with the overwhelming tasks of returning to 'everyday' life in the aftermath of a tornado.   Sometimes it meant cutting up and hauling off huge trees that were blown over and covering their yard (a task many cannot physically do, nor afford to hire someone else to do), sometimes it means tarping someone's roof so their house doesn't leak until the roofers can get there, sometimes it means a group of men getting together to flip back over a shed tossed around by 160 mph winds.  We saw and felt first hand, in our 4 weeks of rebuilding in Tuscaloosa, how thankful and loved people feel when others, often people that they have never met, and maybe have nothing in common with, come and minister to them through physically helping them get back into their own house by laying concrete for the foundation of their new home, or doing remodel painting after their home has been re-drywalled to remove the water damage.
The most common comment that my volunteers hear is some variation of, "I can't believe that people would come all the way from 'wherever' to help ME."   At the cleanups that we helped with this spring, we met people that had traveled from the town next door (or really, next door!), from Tennessee, Ohio, Idaho, South Carolina, New Mexico, Georgia, Alabama, Illinois, Kansas, and Indiana (those are just the states that Beth remembers other volunteers being from!  they don't know where most of the volunteers were from!).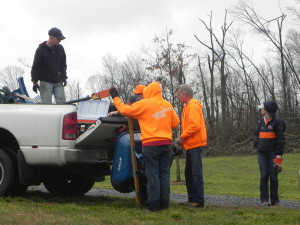 Now, don't get me wrong, I understand that not everyone can get up and go to pick up tree litter or sift through house rubble, and it's not everyone's gig to paint or lay sod.  But for us, it IS 'our thing' to physically get out there and minister to those people, hurting from the effects of a disaster, by putting our muscles and building skills to use, helping others.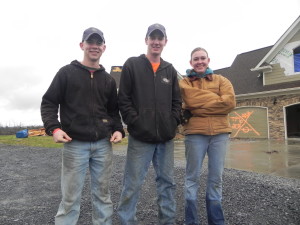 And that is why, even though we just got back to our hometown (where we usually spend the whole summer), we will be hitting the road again in just one week!   This tribe is heading to Oklahoma to volunteer in the relief efforts going on there (check out Samaritan's Purse if you would like to find out more about who we will be volunteering with).

   A 1458 mile roadtrip (each way) wasn't in our schedule, but we know that God is calling us there.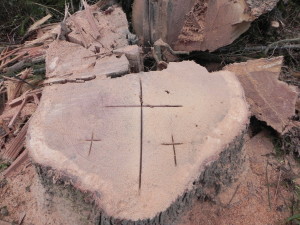 "Make sure you are doing what God wants you to do–then do it with all your strength."
~George Washington