We had such a great time with Hannah's friend Lydia this week!
We got her to spend the night with us on Monday, and no, she didn't have to sleep on the floor

the couch is a hide-a-bed!
On Tuesday, we drug her all over Fort Worth.
Our first stop was the Fort Worth stockyards…

I love longhorn cattle (though I will readily admit to also loving a strong fence between us!), therefore, the rest of my family also gets the chance to enjoy them while I do…
We parked right by the longhorn pen, where there is a viewing platform with fun little lift-the-plaque question and answer displays, and pictures of the 18 or so cows in the herd marked with their names.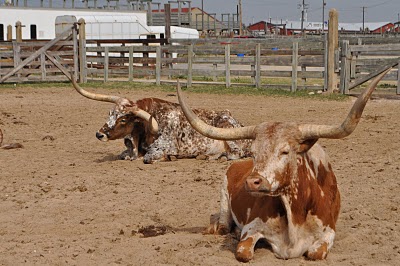 The cows are so used to people that they aren't the least bit interested in visitors, and they lay around looking very bored.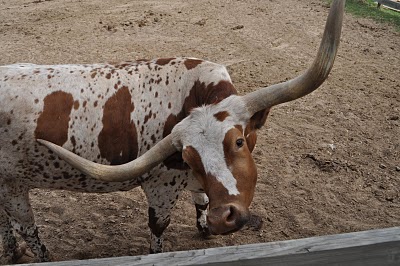 The stockyards is a fun little touristy stop with the usual money traps. We seldom do those kinds of things, but the bronc riding was right up Eli's alley, so…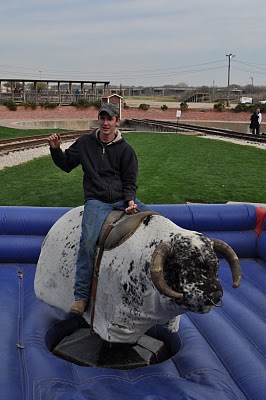 We all got a good laugh out of seeing him try to keep his balance on the bull – he said it was harder than it looked – probably compounded by the fact that he was laughing as hard as we were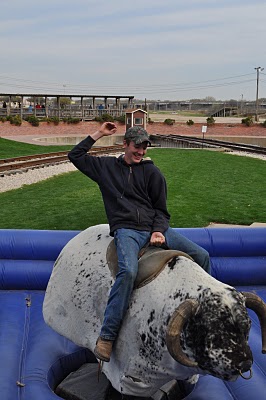 there is a maze ($5×10=totally not worth it to us, especially since I had read online that it was free), some little kids signs,
and some cheesy picture taking opportunities (which we are always game for).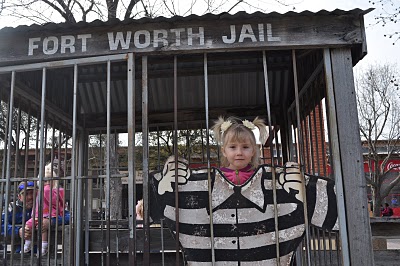 across from the cattle pens is the old stockyards shipping station. Now the building is full of little shops and eateries…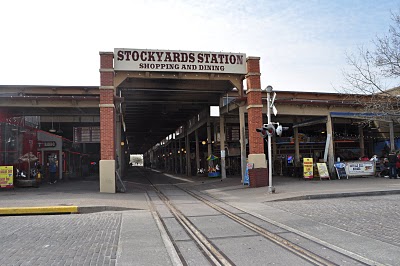 At the visitor's center, there is an interesting mural…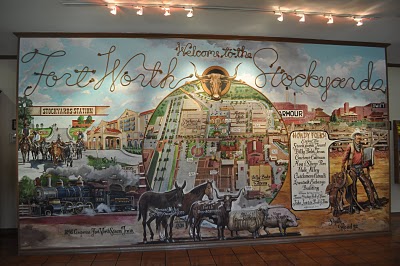 I thought about taking the kids in to get their picture in front of it, but you wouldn't be able to see the mural…
But, if you do go to the stockyards, you should stop by the visitor's center -aside from getting some great tourist info, and a cute little map of the area, they gave us a bunch of 'Fort Worth' hat pins for the older kids, and metal badges (no pin) for the little ones. Cute
souvenirs
!
The cattle are driven down the block (well, technically, they don't even go all the way down the block) twice daily, at 11:30 and 4:00.
It was fun to watch them even if they do look bored to death!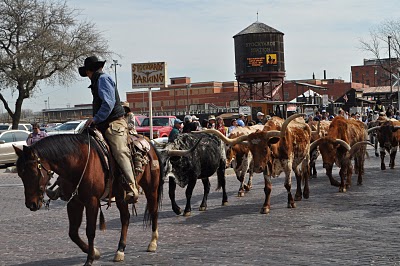 You are not allowed to bend down to take a picture – the cattle are curious animals, and if you are lower than them, they may just come over and to check you out. (at least so I was told) Since they tend to bring their big sharp, pokey horns with them, it's not such a great way to see them up close.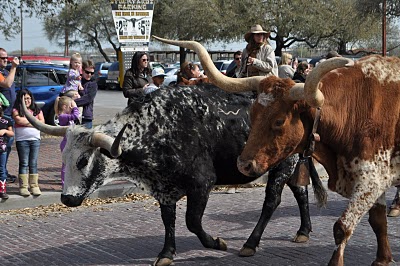 the cattle mosey slowly by, giving you plenty of time to photograph each one several times if you would like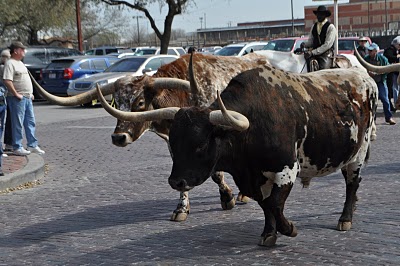 I think that it's one of those things that you have to go to just to say you have.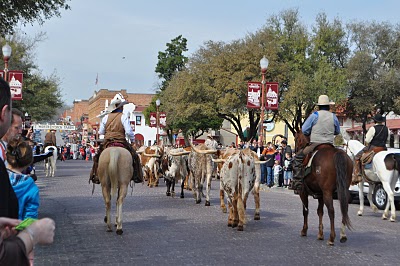 We walked the block, and checked out some of the stars in the 'Texas Trail of Fame',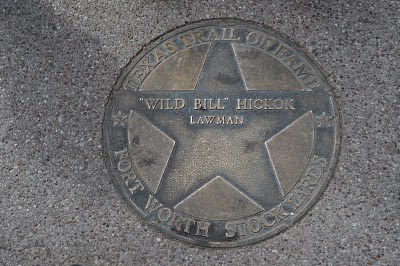 took a few touristy pics in the stockyard mall,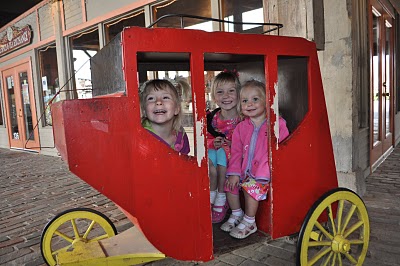 enjoyed the beautiful flowers in front of the
FW
Livestock Exchange building,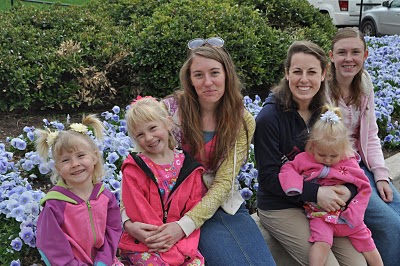 and saw a few interesting statues.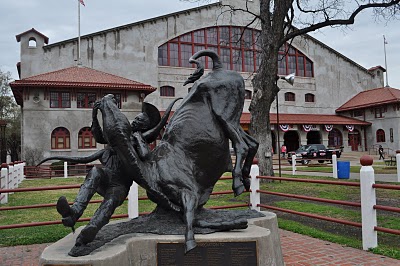 Then we headed inside of the Livestock Exchange building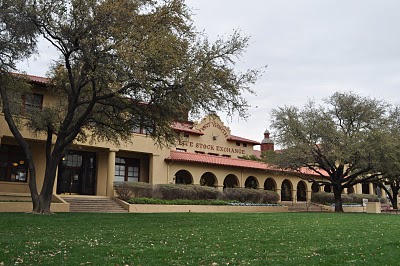 to check out the…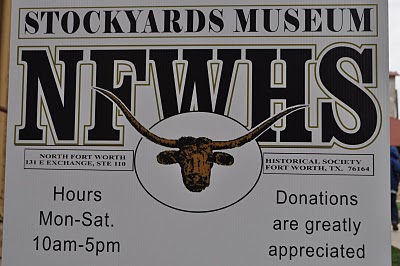 an
itty
bitty 'old Texas' museum.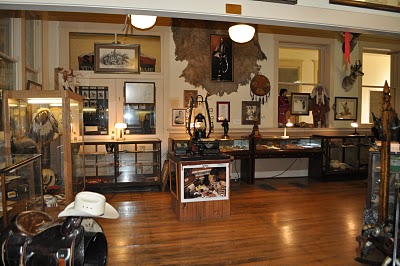 It had some interesting things in the room, like chairs made out of horns and a
light bulb
that hasn't gone out in 100 years (or something like that).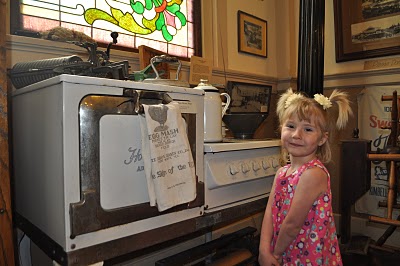 After we had our fill of the stockyards, it was time for a late lunch. We toyed with eating at one of the places here, but weren't sure what the food would be like (except that it would be expensive!
LOL
!) so us girls decided that we would take the guys to someplace we knew would be good.
Five Guys Burgers and Fries.
It took us some time to get there, and ultimately changed the rest of our day, but it was worth it. (except that we almost didn't have a 'rest of the day' as daddy announced that he definitely needed a nap after a lunch like that)

Savanna didn't eat anything but peanuts (how appropriate), the guys were tickled that they got to order their hamburgers with such unique restaurant toppings, and we learned that 3 large fries are too many even for 13 people (but we gave it a shot). I did realize later that my bacon cheeseburger didn't have any bacon on it, which in no way detracted from my enjoyment, and that one very minor mistake in our order shows an incredible attention to detail (our large orders usually garner multiple mistakes at restaurants

. We were again impressed.
And that, is the end of my shameless
infomercial

Not the end of our day, but I have rambled on enough for now…