After we left Colorado River TT, we spent one night at the Lake Conroe Thousand Trails RV Park.  It was cold, and we didn't pull in until dinner-time, so we never did really check the park out.  It looked like a well maintained campground, and Vaughn and Eli used the weight room (Jake was too young, such is life…) and said it was one of the nicest ones they have seen.   And the employees were super friendly and cheerful. 

After that, we headed for Lake Tawakoni Thousand Trails RV Park, just east of DFW (Dallas, TX).
*for those of you wondering what all the 'Thousand Trails' parks are, it is a private campground system that you buy a membership into.  It has been a God-send to our family (literally) as they don't care how many kids we have; they don't charge us extra people fees!   If you have any questions about TT, drop me a line and I'll be happy to answer them!  We have been so pleased with them that we are glad to send business their way!
We arrived at Lake Tawakoni TT last Friday, and stayed through Tuesday.   While we were there, we spent some time with the local wildlife…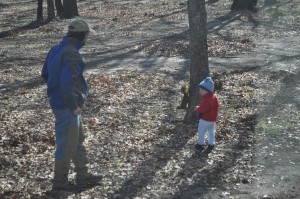 The kids were so tickled with how tame the red squirrels were.  They are obviously used to hand-outs (the squirrels…

.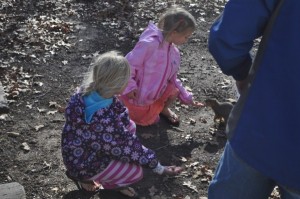 But it's funny (not!) how that entitlement mentality kicks in after they get used to hand-outs…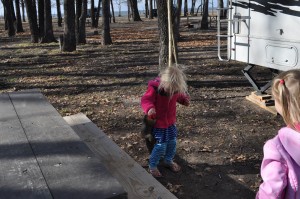 Molly didn't care for the squirrel climbing up her to steal the food in her hand, so she quit feeding them.  Which was too bad because she enjoyed it so much that she would go out first thing in the morning, even before breakfast (and, obviously, hair-dos), to feed and watch them.
The boys (and Peanut – can't forget Peanut!) spent some time fishing, but the fishing wasn't very good, so they had a couple of mini-golf tournies, did schoolwork, played in the water (too cold for swimming despite Peanuts insisting that it was not), and had a campfire every night (cuz you can't have campfires everywhere!).  Beth and I drove into Rockwell on Sat to support Hobby Lobby – didn't even know that my kids needed to learn leather tooling (thanks Hobby Lobby! LOL!)!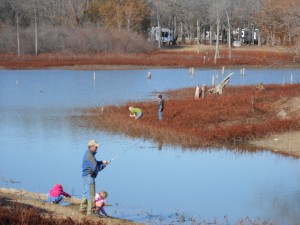 They did catch a few fish, but nothing great – just enough to tickle the littles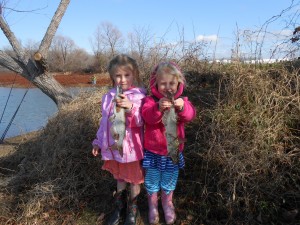 We visited a lovely little church on Sunday – one of our very favorites, so far, in all of our traveling!
But besides all that, one very important thing happened while we were at Lake Tawakoni.  We received a very special delivery…(no, it's not a baby!)…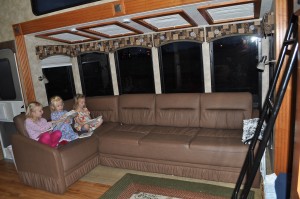 Our new couch!!!
We had special ordered this baby

at the beginning of December.  It was built to our specifications in southern Cali, and we were kind of sticking around Texas waiting for it as the farther East we head, the more expensive the delivery gets.  This couch gives us a few more seats than our old couch and the recliner did – those few seats make a big difference!  Between our leaving, and now, we had been sitting on camping chairs, a wooden bench, and the floor.  We are SO GLAD to have this – between the new couch, the dinette, and a folding bench the little girls have; we can now all sit together. 12 people. one RV living room. together. all at once. every day.  :)  pretty exciting! LOL!
Now that we received our long awaited (and fabulous!) delivery, we are on the road once again.  We said GoodBye to Texas on Tuesday, and are now checking out The Natural State!