After we pulled out of the Welcoming Center in Big Cypress last Sunday afternoon, we had a 3 hour drive to our RV park – back to the Orlando Thousand Trails!   We were going to stay just a couple of days to catch up on the 22 loads of laundry I had from our 12 days in Big Cypress, and to restock groceries, but we are still here!!!  LOL!  We got caught up, and were going to pull out, but the bigs were having such fun with their friends!  Plus, another RV family that we were going to meet up with again up north, wanted to stick around FL a little longer – after checking the weather up north, we wanted to stick around here a little longer too!!!
Wednesday nights are spent over at the activity center watching way too many episodes of Duck Dynasty in a row…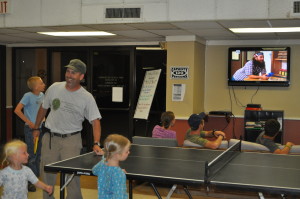 while the littles get hyped up on candy given to them by one of the groups of card players.  I am blaming them for Caleb learning how to flirt: he walks over to the end of their table and gives those grandmas a big cheesy smile and blinks his eyes really hard – I'm sure he thinks he's winking at them!  They then tell him how cute he is and make googley eyes back, and then beg me to let them give him more candy. LOL!
We celebrated Thomas' 14th birthday last week – we have had lovely weather, so we had a shrimp boil outside…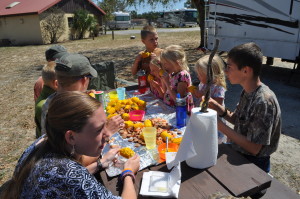 but had to do brownies and candles insides since the wind was blowing just enough that we couldn't keep the candles lit…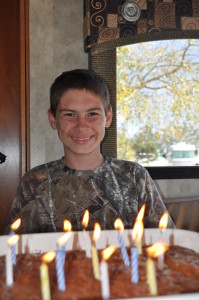 He got a few gifts,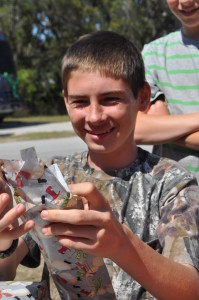 like a really cool machete (for whacking down all that brush down here)…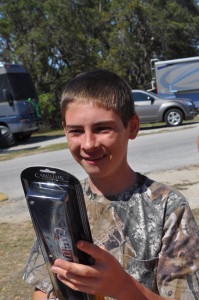 and a snorkel set.  We couldn't give him a snorkel set for his birthday and then leave sunny Florida the next day (which was the plan).  So we didn't.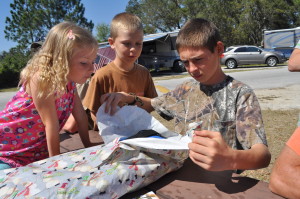 Last week we also did haircuts, inside.  Not Caleb's favorite activity even if he gets to watch a movie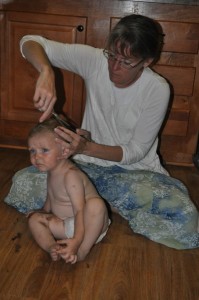 The teens have been playing water volleyball every day this week.  There were 16 teens playing on Monday…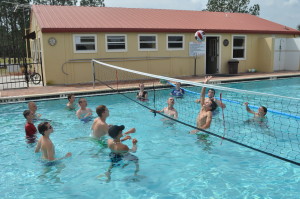 The kids have been meeting other kids in the park.  They found a couple of teens from Alaska that they have really enjoyed getting to know, and we have gotten to meet some other traveling families that we had just not had the chance to get to know yet.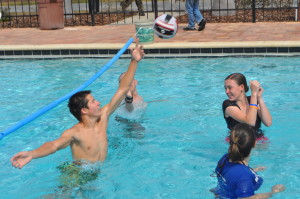 They went to a teen night at the activity center Mon. night when another family organized a game night.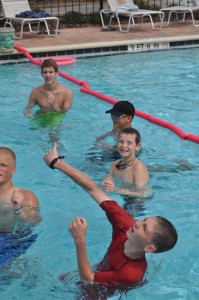 And last night they went over to another family's 'house' to fellowship.  Apparently teens can 'fellowship' in front of Wii Dance – and they came home still rolling with laughter - they had a great time!!! 

  …they also talked, and took and played instruments…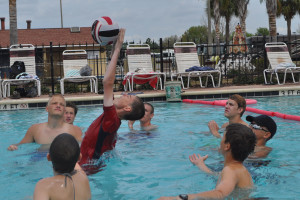 Tonight there was a much bigger crowd parked in front of the small TV in the activity center for Duck Dynasty :) , and they are actually still down (Vaughn too!) there while the littles are all sleeping.  We went down for awhile, but Caleb got way too loud after his candy bars from his adoptive grands; the littles and I came home early, which is rather nice as the wait for the bathroom for nighttime routines is considerably shorter when everyone is not home yet!
I'm not sure what to do with myself with a (mostly) empty and quiet RV! -thank goodness they will be home soon – the a.c. closes at 11pm.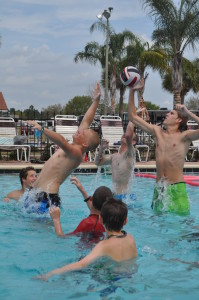 Tomorrow evening we are having a teen vs. parent volley ball tourney, with an ice cream 'social' afterwards.  Should be fabulous!!!
In other news, Caleb is getting pretty brave around the water – I'm waiting for him to fall in head first when he is sitting on the edge of the pool and reaching way down to splash.   He now goes over near the edge by himself  (I'm right there…), sits on his bottom and skootches right up to the edge to put his feet in.  He's getting there!
This past week, both Emma and Savanna have shed their life jackets and are already diving to the bottom of the pool to retrieve diving sticks – Emma doing it down at the deep end (5.5 ft

).  Molly decided that she could swim without hers too, and was going to follow them to swim across the pool - she sunk as soon as she jumped off the steps, and I had to walk in after her.  Thank goodness it was a hot day – my skirt dried (on me) in less than 15 minutes.  


Yesterday I took the littles down to the pool at 12:30, and finally had to drag them out after 6!   Yep, we've been working hard down here!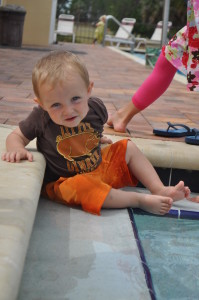 Having a lot of fun hanging out here, but at the same time, it's not really our thing (busy rv parks), and we are itching to hit the road to new destinations!  So, hurry up spring and start heading up the east coast so we can too!!!