During our all-family-members-inclusive 235 years in Montana (you know, Caleb's 1, Molly's 3, Savanna's 6 (next week)…notice how I started at the younger ones to keep Vaughn and I out of the details ;)  -and I even spared you the months or it would be even longer!LOL!), we have explored quite a bit of this state that we call home.  Everyone is a 'native' except me, but since my parents moved here when I was 2, I have a few(cough) years here under my belt too.  We have found so many places that we love!
One of those places is a little mountain lake about an hour south of home.  Even though it's only about 14 miles in on a dirt road, the drive takes about 45 minutes (and is super washboard right now – so much for hoping to take the 5er up there for 2 weeks!).
We have some on-the-road friends visiting for a week or so, and we took them up there yesterday.  The drive is beautiful…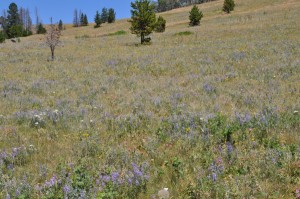 All the wildflowers were in bloom; we even found a few of the somewhat rare Indian Paintbrush, which happens to be one of Beth and my favorite flowers…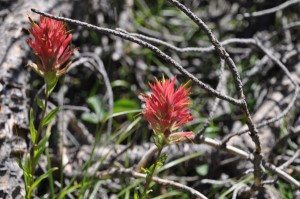 We arrived around noon, and got out the makings of lunch (after a quick stop at Costco for croissants and sandwich makings on the way up there), then the kids were ready for some time in the water.   It's a bit of a 'to-do' for us to go to the lake for a day without toting our whole home with us (we are a bit spoiled).  This is how we take along (just) our beach towels… (each person has one, and no, we don't wash them all every time!!!)…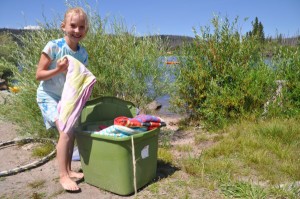 We have another tote like it for swimsuits (the girls have 2 sets – one 'nice' one and one play), and another tote with life jackets for the littles.  Don't forget to add in sunscreen, extra clothes for littles, swim diapers, camera, folding chairs, a big cooler, paddles and…
Kayaks!  It was the first time we have used them this year! 


The kids had fun just getting out and taking leisurely paddles in them…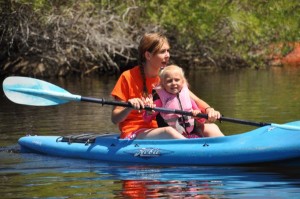 and hula hooping on them (yeah, this is our lake raft, but they were doing it on the kayaks too!)… (and yes, they were just starting to fall here! LOL!)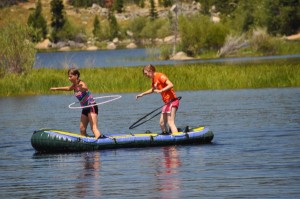 giving littles rides…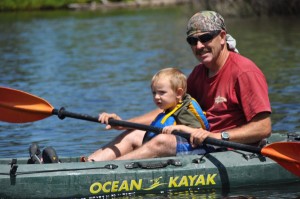 but mostly, they were out in them playing rousing games of 'Ultimate Kayak Frisbee'.  Not sure what the rules were, but they said it was the best kayak game ever…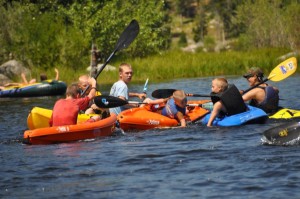 There weren't very many other people up there (I think the unmaintained road scared them off), so we got to spread out and take up as much room as we wanted…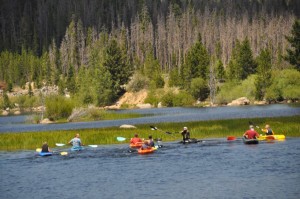 The little girls tried to catch tadpoles and little frogs…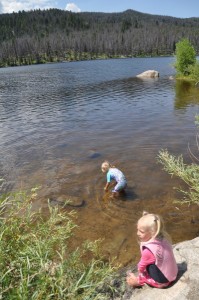 and, of course, they found 'Dexter'…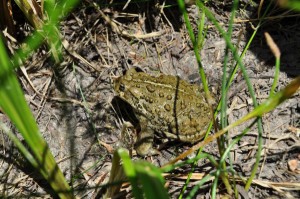 Dexter is one of our silly 'things'… every time we go up there, the kids hunt for a large toad, always in the same location - and of course, Dexter is always there, waiting for them in the tall lake grass.  The littles are sure it's the same Dexter time after time, year after year, and once they have found Dexter, they don't look for anymore big toads because it would be silly to look more – they have already found the 'one and only' Dexter! 

Caleb was so funny at the lake!  He LOVED his life jacket!?!?!?  …to the point that when it came time to leave, 7 hours later, he screeched and fussed, and stood his ground trying to put it back on!  His little determined, angry eyes came out, and he tried and tried to clip those plastic buckles together again.
This was his favorite spot – in the water, with someone's (anyone's) soda in his hand…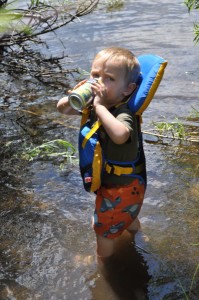 The fun games of kayak Frisbee got pretty intense…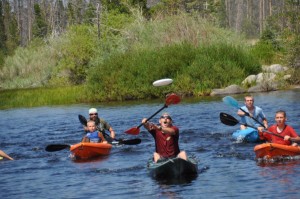 but all those competitive guys were so great that even Peanut and Emma would occasionally go out and join in on the fun…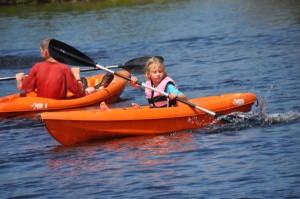 We think that this place is beautiful, but part of the beauty is all the years worth of memories that we have made here.  That, and we remember it as it was before the pine beetles came through and killed off much of the timber.
In one corner of the lake there is a little waterfall that feeds the lake.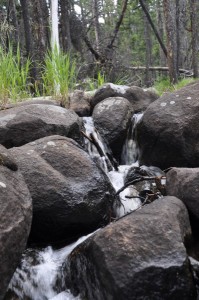 it runs along a rock bed, like this, for nearly a mile up the hill, back and forth.
The lake isn't very big – Caleb, Molly, and I took a little paddle around it, and saw a family of ducklings.  There is so much about Montana that we love; here is one of the things that we think of, when we think of 'home', when we are on the road.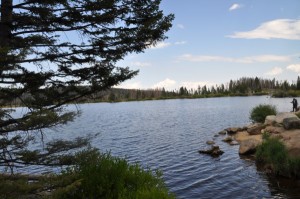 We found all sorts of beautiful flowers in bloom, like these Blue Bells…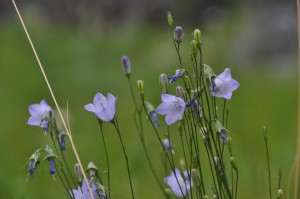 pretty aren't they?…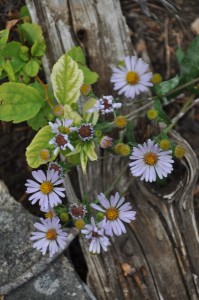 I've never been a cultivated flower fan – give me wildflowers any day!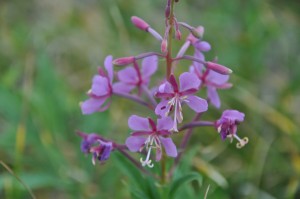 Apparently Caleb's aversion to water is just to 'tame' water.  He hates baths and doesn't care much for the pool.  We couldn't, however, keep him out of the good ole' Montana frigid lake water!
We have ocean kayaks, and our friends have whitewater kayaks.  Caleb climbed all over ours for the first few hours, but then he got brave after deciding that their kayaks were more his size.  He climbed in one of them, all by himself, and tried to unground himself with a paddle.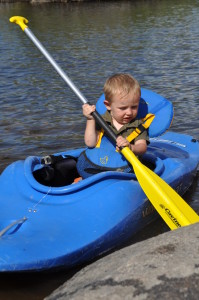 Once he got free, he was determined to head out and take a spin around the lake…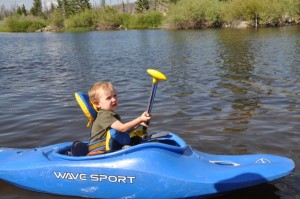 hmmm…maybe a kayak paddle would get him farther, faster…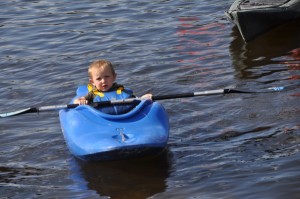 He actually sat in here, 'touring the bay', for about an hour!  He was happy sitting in the kayak, wielding his paddle, floating near shore.  So we let him.
While the rest of the family was playing in the water, Eli and a friend were riding the backroads south of town, and wound their way up here too, to visit us!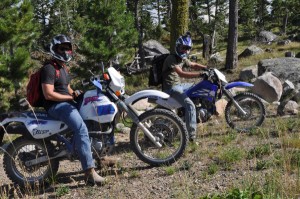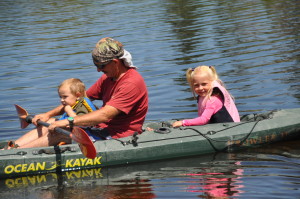 We are enjoying spending time with our traveling friends (The Lundy5) - and spending time at one of our favorite 'happy places' too!