Guess I haven't blogged in awhile.
We've been too busy washing the cat…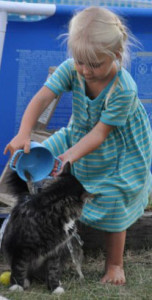 playing airsoft…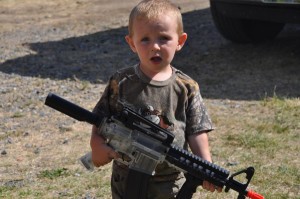 and picking up the mail.
The mail has had all sorts of treasures for us lately… like the case of gumbo roux I ordered so I could make gumbo for some company we were having… (which didn't come in time because it took nearly a month to get here.  Note to self – next time we are in E TX or LA, buy at least 36 jars because the 12 we bought in January didn't even last until we got home in April!).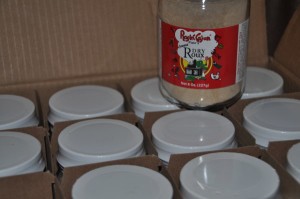 The mailman also recently brought us $96. worth of new fridge shelves (2 door and 1 drip catcher) because having a third RV fridge shelf again is worth every penny…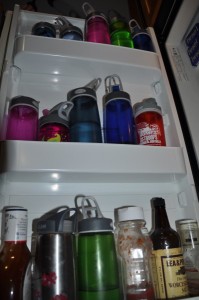 The mailman has also been bringing us lots of new clothes to round out our wardrobes for the year.  I have ordered nearly everything we have outgrown/worn out, and my list only has left: 1 pr of church pants for Caleb, 3 swimsuits, 8 pr. of shorts pjs, 7 t-shirts, 1 pr of LOBSTER swim trunks (this child never specifies a look preference, so I'd like to fulfill this one! LOL!), 4 pairs of shorts, 2 dozen socks, and 5 dozen underwear.  This is really not bad considering what my list looked like a month ago! LOL! 


… And technically, the mailman doesn't 'bring' us our mail – we have a Post Office box… and are really glad we didn't get the little one 

We have been having a super time watching baby Dillon a little.  We would never spoil him

 (hehehe!)… and there is always a line waiting to hold him…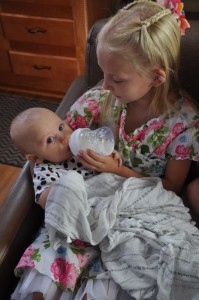 This past Sunday we celebrated Molly's fourth birthday!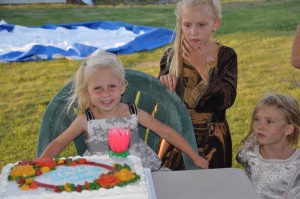 She is growing up so fast!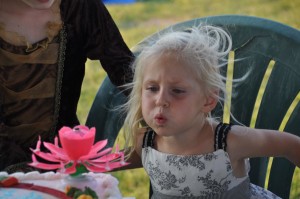 She got a coloring pad from Emma…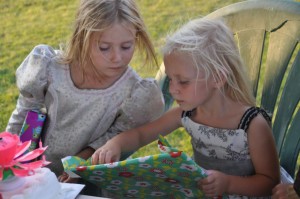 And we got her an American Girl Bitty Baby.  This would be the same doll that came in the mail a week earlier; I took her upstairs and hid her in my room (you know, all 65 sq ft of it), and Molly came down 10 min. later and said, "I don't want my doll to be a surprise!".  LOL!    Oh, the joys of #lifein400sqft !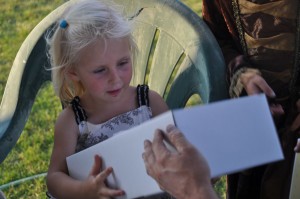 She loves her!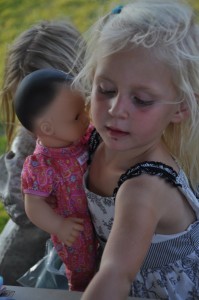 and unless Molly is in the water cooling off, they are inseparable.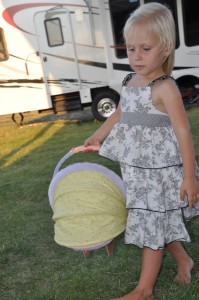 The day after Molly's birthday, the friends that we are staying with hosted a BBQ.  It was fun to get to visit with everyone from church!  One of the families at church used to run an inflatables business, and they still have a few.  They sent a bouncy spaceship for the kids.  Since we 'live' here right now, our littles had it to themselves for hours!
…and yes, that big black cord is our electric cord for the rv.   Under the roof extension is their full hook-up RV site – you know, the one that we are a foot too tall for! LOL!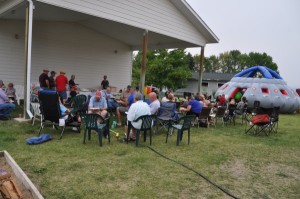 Molly and the other girls have been taking their babies out for lots of picnics under the lovely, sprawling shade trees they have here…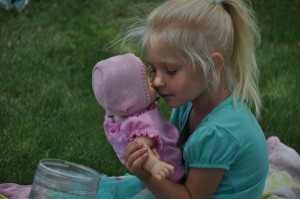 They use their beach towels for picnic blankets, and are constantly asking what food they can take on a picnic…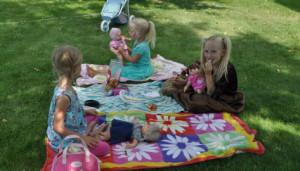 I will be the first to admit that there are benes to having a sticks n' bricks house.  One of those is having your own big toys.  Like a water slide that has been buried in the back corner of storage for 4 years…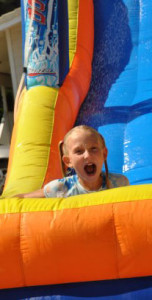 Since we cleaned out our storage unit, and actually made it all the way back to the far corners, we pulled this out and the kids set it up.  It's nice to have generous friends who let you have all the benes of having a house. without the property taxes.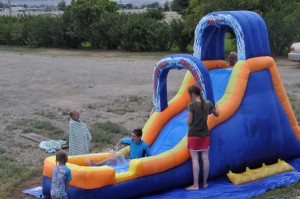 The kids have been on this non-stop for the past couple of days.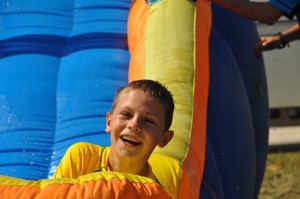 I actually don't expect it to last long, and I'm OK with that – less stuff! LOL!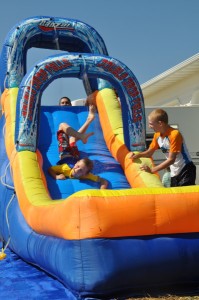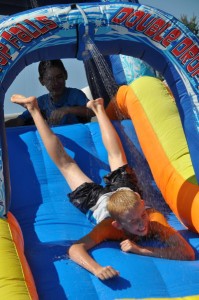 Even Caleb went down a few times!  But just a few – he wasn't too thrilled with the cold water!  :)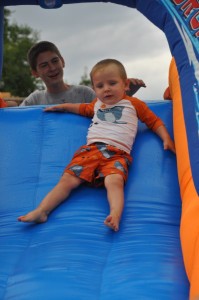 We are loving the warm weather that is hanging around MT right now – tho those cool nights keep reminding us that it won't stay this warm for long!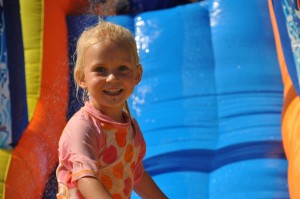 Hunting season is around the corner, which is a pretty big deal around here.
This morning, the boys (except for Caleb) all went to work with Vaughn.  They were cutting out a part of a cement basement floor so that a plumber could get to some broken pipes.   The boys went to haul 5 gallon buckets of dirt and concrete up the stairs, from the basement, to the outside.  The plumber remarked that he'd never seen anyone haul so much dirt so fast (and he as a big family too).   That was because as soon as they were done (which was in record time), they were all going dove hunting…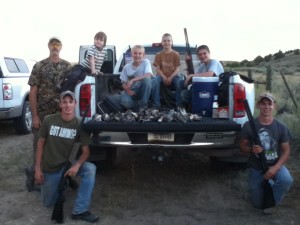 69 dead doves later…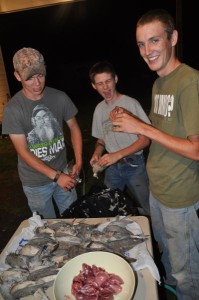 The guys got back at dark, after having a fabulously fun day with a dear friend and his young son.   The guys cleaned the doves out under the roof overhang, and the littles went out to watch.  Check out Molly's face…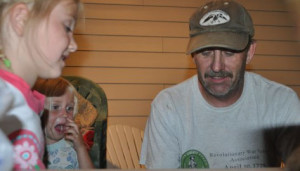 …and the word 'disgusting' was thrown around A LOT by Molly and Peanut!!!   Course those boys didn't help matters any…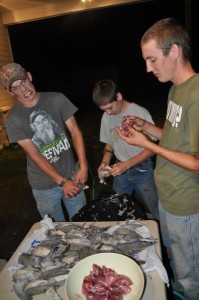 Not sure any of the little girls are going to be hunters!  LOL!!!
We'll make the doves for dinner tomorrow night…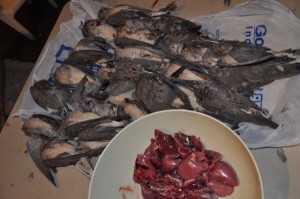 While we love to connect with people back home, over the summer, we are all ready to hit the road again (well, if it weren't for hunting season. and our big kids!!!).  I miss meeting new people on the road, and friends that we have met out there!  Just tonight I was texting with a friend that we met in Moore, OK (then we emailed back and forth because neither of us are very good/fast at texting! LOL!).  We had hoped to make a road trip this month, but Vaughn is just too busy with work, and the kids weren't $2300 worth of excited to go to the specific event (how much it would cost in fuel).
Instead, it looks like this tribe will be taking off one week, instead of two, and heading out to go camping at our very favorite spot in MT!!!  We haven't been there since we started fulltiming.   There is no cell/internet service, it'll be about 20 degrees cooler, and we will be at least an hour away from groceries/laundry.
Gee, we can't wait!!!