It's time for this tribe to move on.  We had a wonderful time 'back home', with our big kids and gramma, we had the best 'home base' with our adoptive-grands hosts, and we loved to touch base with our friends.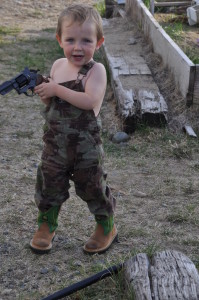 We got to love on grandbaby Dillon…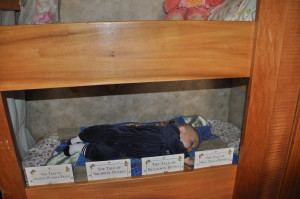 We got to watch him sometimes while Hannah worked.  We even have a bed for him! LOL!  We didn't want to bring in a bulky pack & play (it is bulky if you only have 400ish sq ft to begin with!), but I worried about him rolling off our bed when he napped – so we put a 'rail' up and he napped in the bottom bunk bed.   We just slid books down between the mattress and sideboard, and it was perfect for him!  ~ I think it's time to get some Thomas the Tank Engine sheets (already ordered the wall clings

).  This will be Caleb's bed as soon as we can get him to sleep in it!  The only time he wants to lay down in it is if Dillon is in it! ROFL!!!  Caleb loves Dillon, but isn't sure about him hijacking the 'the baby spot' when he's here!  ;)
So, today we pulled out of our cushy spot.  We pulled out one (more) member short, which is both

and

.  Eli is staying here until after Christmas.  He got a seasonal job that he wanted, and will be sharing Greg's apartment.  There is a chance that they will keep him on after Christmas, but for now we are just planning for Eli to fly down and join us when his temp job is over.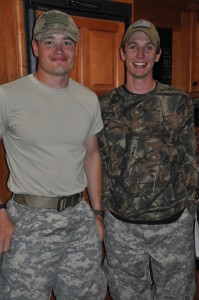 This whole 'kids growing up' thing is hard. It's such a good thing that they are going out and pursuing life on their own; it matures them in ways they cannot when they are with us.   We are so proud of them, but we sure do miss them!!!
Today we drove about 4 hours to my (Dana's) parent's house.  Not the best drive – lots of rain…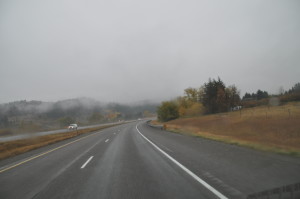 and some snow (which I personally enjoy driving in)…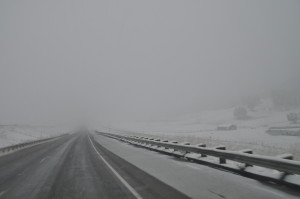 to get there, but we arrived safe, and have a nice spot under huge trees (too dark to tell what kind).  We'll be here for the next few weeks (minus one when the guys head back to hunt); the guys will be remodeling the house, and the rest of us have quite a few outings planned around the Billings area.
Excited to be moving on, but missing the part of us that is still 'back home'.