If there is one 'school' subject that I enjoy, it's history.  In the sticks n' bricks, I had a tendency to collect books, especially anything historical.  We owned most well-known history texts, and shelves and shelves of historical novels.  That all sort of changed when we became fulltime RVers - we pared down to the bare minimum, and history books didn't compete well with clothes and food!
Not to say that we completely ditched teaching any history – we just replaced it by going where it happened, and learning about it on-site instead of from a book.  But, after 4 years of traveling, despite what a detriment it will be to our GVW, we are bringing back the history books for awhile to make sure we don't have any glaring holes for these middle kids…AND we will still be going where it happened! LOL!
Only it won't be books from the house, it will be a new curriculum that I just got to review with the TOS Review Crew!  From Notgrass Company, we got to try out their America the Beautiful Curriculum Package. America the Beautiful is a complete, one year long, history, literature, and US geography course geared towards ages 10 to 14 (roughly grades 5-8).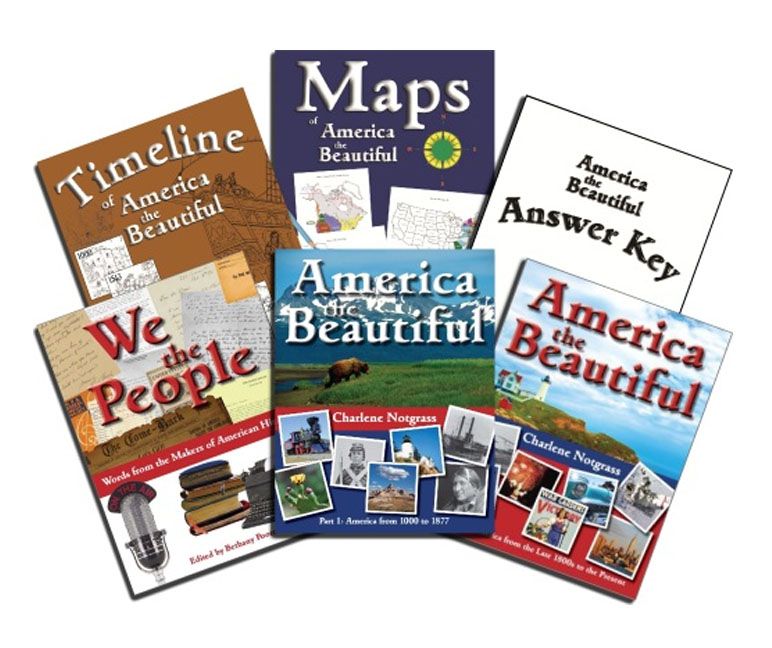 The Facts:
We received the America the Beautiful Curriculum Package ($99.95), which contains SIX components:
America the Beautiful part 1 – a 452 page hardcover text that cover US history from 1000 to 1877ad.
America the Beautiful part 2 – 572 pages covering the late 1800s thru 2010.
We the People, Words from the Makers of American History - also hardcover, 220 pages of historical documents, songs, letters, journal entries…
Maps of America the Beautiful – softcover workbook containing 30 maps, and the printed instructions for each activity
Timeline of America the Beautiful – softcover, a workbook style timeline that you don't need 30′ of blank wall to compose! -great for us gypsies! LOL!
America the Beautiful Answer Key – softcover booklet containing all the answers for the Timeline work, vocabulary assignments from the texts, Lesson Review (optional workbook purchase), and the Student Workbook (also optional workbook purchase).
We also were mailed:
America the Beautiful Student Workbook – softcover, spiral bound, 150 pg. workbook that is an optional addition to the curriculum. $11.95
America the Beautiful Lesson Review – softcover, spiral bound, 110 pg. workbook that is an optional addition to the curriculum. $9.95
Each of the 2 texts contains 30 units, each unit contains 5 lessons ( full school-year worth of study).  The textbooks are well-made and of good quality (I love nice books!); they have glossy, cleanly designed pages, with plenty of detailed, colorful, and pertinent illustrations and photos.   We The People is set up the same, with interesting visuals, and includes indexes in the back to made referencing it's contents easy whether you are using them with the America the Beautiful text or not.
How it Works:
America the Beautiful does not have a Teacher's Edition to tell you how to run the show (yay!).  The text is very self-explanatory, and is easily followed.  Each of the 30 units (a week's worth of work, if doing it in one school year), has 5 lessons (daily work).  Each lesson is easily distinguished, and the student begins by reading the text for the day.  At the end of the day's reading, the book clearly outlines the activities to go with that day's reading (author clearly promotes parents are to decide how much is desired/required).  The outlined activities can, but don't always, include:  Thinking Biblically (Biblical worldview), Map Study (out of Maps of America the Beautiful), Literature (excerpt out of We the People, or chapters from one of the 10 historical novels that are suggested as supplements to the curriculum), Creative Writing assignments, Time Line work, Vocabulary words, and pages in the Student Workbook or Lesson Review if you choose to use them.  Also, at the end of each unit, there are suggestions for a Family Activity.
There is quite a difference between the 2 optional workbooks – each filling a different need:  the Lesson Review , with it's fill in the blanks, worked better for the older (and more studious) student in our house, while the Student Workbook, with word finds, crossword puzzles, t/f… was more enjoyable, and easier to complete.
The Opinion (LOL!):
Outlining all the activities/assignments above, this curriculum sounds like it would be a ton of work, but the lovely thing about it is that all these activities are just ideas, and not required!   The author, homeschooling mom (and now gramma) Charlene Notgrass, states very pointedly, that the parent needs to decide what they will ask of/require for each child/situation.  So, whether you are high workload, or a bit more laid back, all the ideas/assignments are there for you to pull from, not be a slave to.   A more studious child (and one on the higher end of the targeted age bracket) will easily be able to complete every one in under an hour a day, while a younger child might need a lighter workload.
For the review (and will continue), I had Thomas (14), Daniel (12), and Joel (barely 10) work in the books.  Thomas can easily read, and complete all activities, in under 45 minutes, while Daniel takes a little longer and I usually have an activity or 2 that I exempt him from.  Joel does better if I read the text to him (he can physically read it, but doesn't catch as much as when I read it aloud), and he struggled with a couple of the writing/vocabulary assignments that were assigned at the end of the chapters (but still did them).    The Lesson Review was right up Thomas' alley, and Daniel and Joel are more excited about the varied activities in the Student Workbook.  I feel that (so far) it is going to be a great curriculum for all 3 of them!
I love this curriculum!  I love that the text is in chronological order, has lots of related pictures, and has a bit of reading each day.   I love that it is a 'unit study', textbook style, and can be used by multiple ages, even as a group.  I love that it is so streamlined that independent learners can pick up the book and go without checking in with mommy, and that as mom, I can easily glance at the assignments and know what my child is responsible for without having to consult a special teacher's guide.  I love that it integrates historical novels that we can use as read-alouds, involving the whole family.   I love (the history/travel buff in me loves) that it even includes lessons on historical monuments/landmarks (like Crater Lake, Niagra Falls, Yosemite and Sequoia National Parks)! <3
I REALLY love that it looks at everything with a Biblical worldview (shouldn't all Christians?).
So, the verdict?  This is going with us this winter!  And it takes quite a bit to make the cut to our RV bookshelves (which are getting an overhaul, but that's another post)!   Because it is so well done, inclusive, 3 subjects in one, and can be utilized like a unit study (in this case 3 kids plus littles that will learn from overhearing/read alouds), I think that it's going to be the perfect fit for this next year's history/US geography/literature!

Notgrass Company also has high school level history/government courses (even stewardship), and a drawing course (among other books!).  If you are interested in what others on the Review Crew thought about America the Beautiful, or the Learn to Draw series, you can find their reviews here.