I can see myself being a unit study kind of person – if only I could find someone else to line up all the books, lessons, materials/supplies.  I don't do teacher prep well, but I love subjects where I can teach the same thing to all the kids at the same time, with the olders just learning more details than the younger ones.
When this review came up, the words 'for all ages', and the fact that all levels were learning the same text at the same time, made me curious.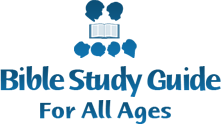 Bible Study for All Ages is a full Bible curriculum for age 3 to grade 6 (with lessons/plans for older).  While any scripture text printed is NIV, for the most part, just scripture reference is used, and the curriculum works with any version.  It is also non-denominational (just the facts ma'am, and no embellishment).
This bible study is broken up into 4 levels:
Beginner – for ages 3 – K
Primary – grades 1 & 2 (this level is unique – best for individual teaching – if wanting to group teach with other levels, consider putting your 1st or 2nd grader in Beginner or Intermediate)
Intermediate –  for grades 3 & 4
Advanced – grades 5 & 6
We received supplies to teach both Beginner level (Molly and Savanna) and the Intermediate level (Emma and Joel – IRL J could have done the next level, but we could only choose 2 different levels).
For the beginner level, we received:

2 sets of Beginner Student Pages – student pages are sold in tablets of 26 lessons – these oversized (8.5×14), pull off pages (reminds me of a placemat), are full of fun and simple activities for the little ones.  With lots of illustrations, these pages are fun, varied, and engaging for non-readers.  While the entire bible is covered in a total of 416 lessons, you purchase the double-sided worksheets in packets of 26 lessons for $5.95.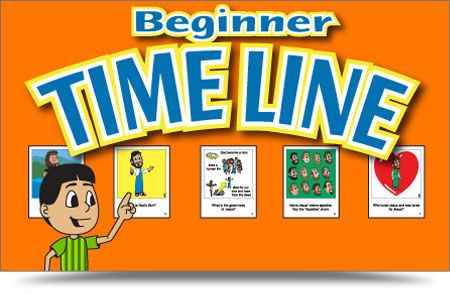 Beginner Time Line – these are 34 colorful cardstock pages that are visual reminders of the lessons that the child is learning.    While I would not say that these are absolutely mandatory, they are helpful and are a fun visual element for the littles.  34 glossy pages for $24.95.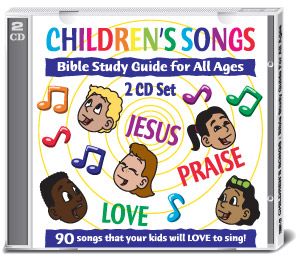 Children's Songs CD – an a cappella set of 2 cds that include 90 songs that reinforce what is learned in the lessons.  $19.95
For the Intermediate Level (Emma and Joel), we received: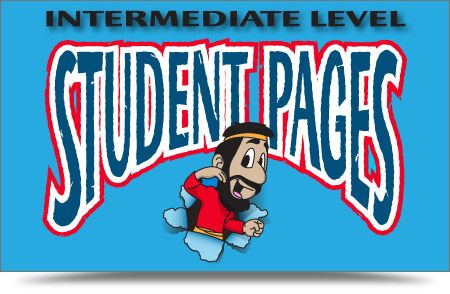 Intermediate Student Pages – lessons 1 thru 26 (there are 416 total at each level),  8.5 x 14 inch pages that easily tear off to work on.  The student pages are not workbook style; which I LOVE because we throw our work away as we do it – I'm not a saver.  More detailed than the beginner level, this level's work includes timelines, map work, some fill in the blanks, reading, and a 'get active' task that require typical household supplies.  Lesson tablets are $5.95 each.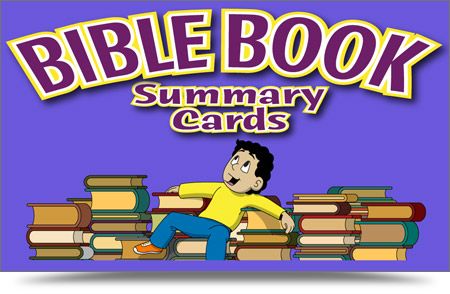 Bible Book Summary Cards – 66 (one for each book in the Bible) heavy duty cardstock pages.  Front is colorful pictures to help you remember what each book covers, while the back includes a summary of what is included in the book, and has a few questions to help review (answers included).  I felt that these should be mandatory; I would definitely want them!  They are also great just for Bible books review even if you are not using this curriculum; super for Sunday School or Wed night teaching (tho I really think the whole thing is)!  Set of 66 for $24.95.
We also used the Children's Song CD (used in all levels)
I really liked this curriculum because it really did cover the same scriptures for the different ages (I wish I would have ordered an advanced to check out how it meshed with the other 2 levels!).  I also liked that it was not in chronological order; that is one of the things that we have the most problems with – the kids get in a rut and feel like they are not learning anything, or it's boring, when you cover the same info for an extended amount of time.  With this study, it bounces around some, between Old and New Testaments, to keep things interesting (and so you don't have to stick with the same curriculum for 3 years before you even get to the life of Jesus!).  The time line keeps it all in order in the 'big picture' for your students, so no worries about getting confused…
On the back of the cover page on the student pages, is a Teacher Quick Guide to get you started right away; it summarizes each section that is on your child's worksheet.  The first thing that we did was to read the scripture reference (out of our own Bibles), then review what we read both by discussing it and by using the different cards (beginner you get a new card about every other day, with a few review days, intermediate you use card for book you are in).  After reviewing, it was time to listen to the corresponding song on the CD.  The kids would each have their page for the day (everyone on the same lesson #), and would then do their pencil work for the day.  The lessons took under 30 minutes, and involved nearly NO teacher prep!!!  YeeHaw!  I love that because I never get around to teacher prep! LOL!   I also love the price of this curriculum, and that I don't have to buy all 416 lessons at one time (and then haul them all over the country)!
The kids love the varied activities on their lesson pages, the fact that it is not a typical workbook (we are easily amused), and that the lessons include music, visuals, coloring/fun pencil activities, and were short!  This is a fun program!  You can do just a couple of lessons per week, or do one every day.  Because of the way the lessons are set up where everyone is working on the same sections of scripture at the same time, if you feel like your child has advanced and one level is now too easy for them, just order the next level up, in the same lesson #s as the other kids, and keep on going!!!  No starting over (and then NEVER finishing a full bible study) because someone has advanced!  <3
We all loved that they were working on learning the same information (which made it easier for the intermediates to help the beginners if I got busy)!  Because of the multilevel application, this study would be great for churches, big families, or homeschool co-ops!
For us, this is so very RV friendly!!!  Instead of leaving everyone's lessons on their tablet, I will (we will continue to use this study) pull them apart and paperclip lesson #s together (so when I pull out the next lesson, it will have a page for each child instead of pulling out 4/5 tablets to rip a page off of each).    While they are a little longer than traditional 8.5×11, I think that it will be fine to put them in a magazine holder to keep them together, in order, then I can just grab the next set of pages; the CD will also fit in there.  I love the Bible Books Summary Cards, and will put them in a 3 ring binder, in clear page protectors, so we can easily access them, and put the binder (one of those soft covered ones) in the same magazine rack to keep it all easy to find/get.  It won't even take up room in the kids' school drawers, and this company seems to ship quickly (you choose between priority or media mail), which means that I can order while we are on the road, having the next lessons delivered to a campground, instead of hauling around fat workbooks!
Bible Study for All Ages is a fun, engaging Bible curriculum! If you want to check it out for yourself, you can go to their 'all products' page, click on the view details button for whichever level you are interested in, and there is a link to view/print sample pages to try out! You can also read what other members of the TOS Review Crew had to say about this curriculum, including the other levels that I did not receive.